Meet Our OB/GYN Medical Professionals
All professionals at Eric Bentolila MD, PA maintain the highest levels of accreditation and pursue ongoing education to stay abreast of the latest trends in the medical field. Read on to learn more about our staff's experience and training.
ERIC BENTOLILA, M.D., FACOG: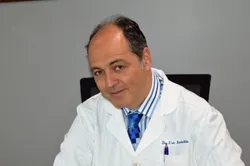 Dr. Bentolila attended medical School in France. He completed his Residency in Paris and Marseille where he received his double certfication in General Surgery and Urology. Dr. Bentolila came to the U.S. and enrolled in the Albert Einstein College of Medicine in New York. He did one year of research in stem cell and completed his Residency in Obstetrics and Gynecology in 2000. During his Residency, he was Chief administrator and received the Leo Davidoff Society award for his outstanding teaching to residents.
Dr. Bentolila is in private practice in Ridgewood since 2000. He covers a large spectrum of expertise from pregnancy care to minimally invasive surgery. He is Board Certified in Obstetrics and Gynecology (ABOG) and is a member of the Amercan College of Ob/Gyn (FACOG) since 2002. Dr. Bentolila is Ultrasound certified through AIUM. He is continually updating his credentials and strives to remain up to date in all aspects of his Specialty.
He is a five time recipient of the Press Ganey Patient Satisfaction Award from the Valley Hospital. He has been awarded annually "America'sTop Ob/Gyn" from the "Consumer's Research Council of America" since 2004 to present.
He is fluent in French, Spanish and Hebrew.
JACQUELINE D. SAITTA, M.D., FACOG: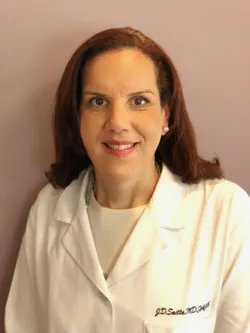 Dr. Jacqueline Saitta joins the practice with 10 years of experience in private practice in Obstetrics and Gynecology. She graduated Cornell University Medical School in 2005 and finished her residency at New York Presbyterian Hospital in Obstetrics and Gynecology in 2009.
While she enjoys all of Obstetrics and Gynecology, she holds a special interest in Menopause. Dr. Saitta's clinical interests and specialties include peri-menopause and menopause, irregular menses and dysfunctional uterine bleeding.
She is also certified in the practice to offer Nexplanon, a small, soft, and flexible birth control implant that provides up to 3 years of continuous pregnancy prevention. Dr. Saitta believes in non-invasive solutions to women's health and exploring natural approaches to treatment.
Dr. Saitta's empathetic, open and autonomous approach allows her to build long-term partnerships and relationships with her patients. Her exceptional training and enthusiasm about her specialty offers a great advantage to the practice.
Dr. Saitta resides with her husband and 6 children in Ridgewood, NJ.